Affording Care
Evaluating Financing Options
Atlantic Shared Beginning's financial team provides you the capability to work with any lender you choose. Future Family is a great option that provides support outside of just lending services, but we are happy to provide other recommendations as well.
Future Family
Capex
United Medical Credit Loan Options
Fertility Financing with Future Family

Future Family is the smart way to pay for fertility treatments. Our company was founded by Claire Tomkins (who personally went through IVF) with the goal of supporting fertility patients on their journey.
Our customized loans are designed to save you time and money, and we work with Atlantic Reproductive Medicine Specialists to combine all of your treatment costs into one easy monthly payment. With our plans, you also enjoy on-demand fertility coaching support from Registered Nurses, who are here to answer any questions you may have.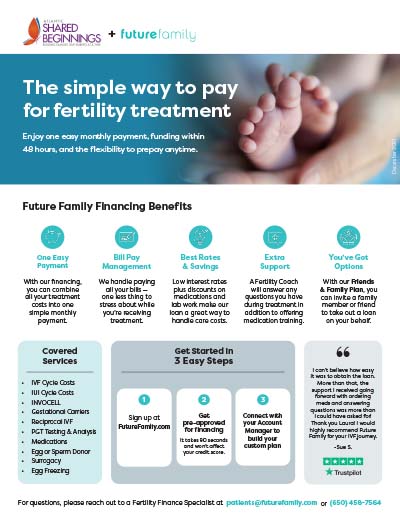 Benefits of a Future Family fertility loan:
For being an ASB patient, recipients are eligible to receive up to .75% off of their interest rate
Access to a very user-friendly patient portal where all information and communication will be housed
Recently decreased credit score requirements
Finance coaching
Low-interest rates
No prepayment penalties
Funding of up to $50,000 in less than 48 hours
Loan personalized to your specific needs and treatments
Treatment costs simplified down to one easy payment
Bill pay management
Personalized on-demand support from Fertility Coaches
Medication training, onboarding, and Q&A sessions as part of your coaching package
Financing options include a friend or family member
Prequalifying is easy. It takes less than 2 minutes and won't impact your credit score. We look forward to helping you with your fertility journey. To learn more and apply, visit us at Future Family today.
Fertility Financing with CapexMD

CapexMD specializes in patient financing services for all fertility treatment options.
Through our partnership with CapexMD, we are able to offer customized loan programs with highly competitive rates that include a variety of loan types. Their simple loan process makes the experience of fertility financing relatively stress-free.
Their loan programs cover all fertility treatment options — including fertility medications and genetic testing if necessary — so you can be sure that none of your expenses are left uncovered.
Once approved, our financial counselors will work closely with their Fertility Loan Specialists to ensure that your funds are secured on time, and your treatment is not delayed.
Together with CapexMD, we can make sure financial issues do not get in the way of your dream of having a baby.
Some of CapexMD's many advantages include the following:
Specialist in Fertility Financing
Highly Competitive Rates
Approval within 24 Hours
Highest Confidentiality
No Prepayment Penalties
Personal Attention
Easy and Secure Online Application
Flexible Terms
No Annual Fees
Retain Your Existing Credit Sources
Apply online and receive your Approval within 24 hours. Learn more about CapexMD by visiting their site or by calling 1-888-497-8414.
United Medical Credit Loan Options

Thousands of patients have trusted United Medical Credit to secure affordable payment plans for their procedures. United Medical Credit can do the same for you.
Some of the benefits of choosing United Medical Credit to finance your care:
Extensive Network of Prime and Subprime Lenders
Multiple Plans to Choose From
Decisions Within Seconds
No Prepayment Penalties with Flexible Terms
Fast and Easy Application Process with No Commitment
100% Confidential
Plans available for Credit Challenged Applicants